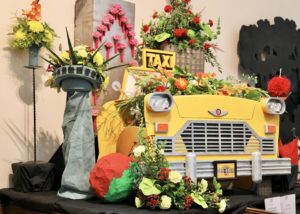 The DEERHURST FLOWER FESTIVAL has been taking place in one guise or another for longer than most of us can recall. Its present format (every other year, during August Bank Holidays) dates back to the 1980s when a parishioner thought it would be memorable way to celebrate her silver wedding with a special floral event at the church. The formula was so successful that we have repeated the festival biennially ever since.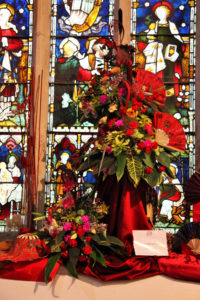 Visitors come from far and wide to visit the festival and it has become a regular fixture on many calendars. The local communities of Deerhurst and Apperley are very proud of what we achieve over the weekend and are pleased to be able to share this with you.
The theme for 2022 is a Floral Kaleidoscope and it will guarantee to be spectacular, giving our talented flower arrangers, most of whom live locally, plenty of scope to create some imaginative and original flower displays – using some terrific props too!
We will keep you up to date with details in the new year via our website and  Facebook.
For more details of the events happening over the weekend please visit our What's Happening page.
To get in contact please click here or for directions on how to find us please click here
Dogs are allowed on the Priory lawn, but we ask that they please remain on a lead at all times.